Browse Through Just a Few of Legacy Painted Portrait Samples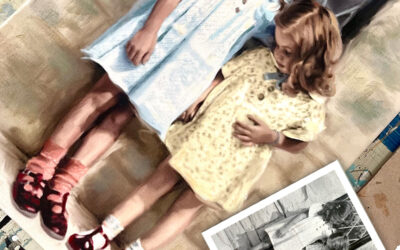 This was a really fun portrait. My client contacted me wanting her old black and white photo of her Mom and Aunt looking at their new red shoes, turned into a color painting. She provided me with the original black-and-white photo to work from. Turn a black and...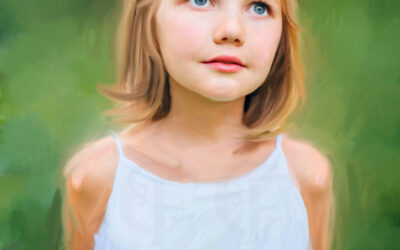 Medium This stunning mixed media, painted portrait is done first in a digital painting and once approved by the client, is put on canvas and painted in acrylic for a beautifully polished look.  Materials Museum-quality stretched canvas, over 3/4 stretcher rods,...
Welcome to Legacy Portraitures!
The Perfect Painted Portrait is Closer than You Think
We take your favorite picture of your loved one and turn it into a beautifully painted portrait.  Our artist, Carol Ferguson, digitally paints each portraiture over your photo, prints it on canvas, and paints acrylic paint over it to make an original piece of art that captures the personality and soul of your loved ones.  These Legacy Portraitures are stunning and are one-of-a-kind gifts that you and your loved ones will truly treasure!  Start building a legacy of portraiture to share with generations to come!
Frequently Asked Questions
Is this a photo or a painting?
The answer is....yes!  Legacy Portraitures knows you want your loved ones to look JUST like your loved ones. Their nose should look just like theirs, and their eyes need to look just like their eyes. One centimeter off and they no longer look like that person. So Legacy Portraitures can bring you a beautifully painted portrait that anyone can afford, we do a digital painting on top of your photo, print it on canvas, and then paint acrylic paint over it.  The finished portrait has been completely hand-brushed for a stunning jump-off-the-canvas piece of art you're going to love. 
How Much Do Portraits Cost?
Everyone is shocked to know how affordable Legacy Portraitures are. The price varies on the size of the canvas you want.  The price starts at $150 for an 8x10 and goes up to $525 for a 30x40.  We wanted to make Legacy Portraitures so that almost anyone can have a stunning painted portrait in their home without taking out a small loan. 
How Long Does the Process Take?
Once you make your order and message us with your photo(s) to go by, depending on the number of changes, it takes about 3-6 weeks to get your portrait in the mail. If you have a rush job we can do them in 2-3 weeks, but need to know right away.  When you make your order, please let us know if there is a specific date you need it by so we can be as accommodating as possible.  
What Do You Need to Get Started?
Once you make your order we will need any photos that you would like us to go by. In most cases, we can combine photos of different people/photos, but please message us the images before making your order to verify they are photos we can combine.   Once we have your photo(s), order, and any special instructions, we can get started on doing a digital proof for you to approve.